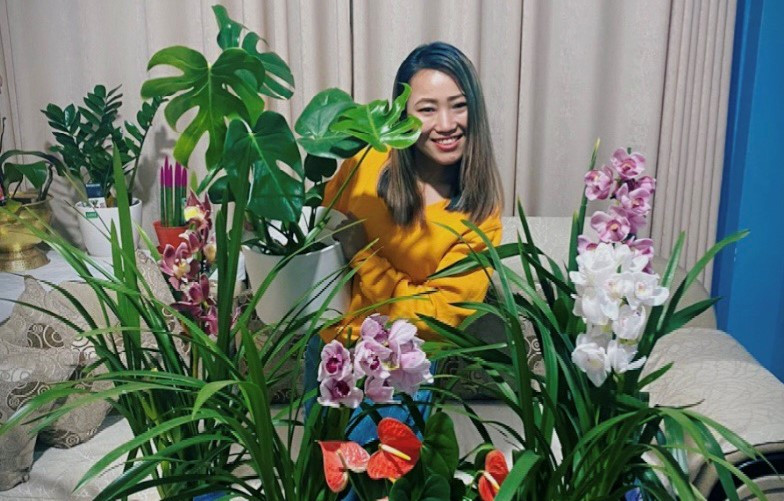 Posted 18 Mar 2021
In Conversation with a Plant Lover
Susmita Awai is one of our most loyal customers here at I am the Gardener. She has been collecting plants for a little over two decades and her love for plants is still ever-growing! We had the opportunity to sit down and talk about all thing's plants with her. Let's dive in!
What sparked your interest in plants?
Well, my love affair with plants started when I visited abroad, Seeing the varieties of plants that they had to offer in their plant nurseries wowed me. I saw a range of beautiful anthuriums, Calatheas, and other varieties that I had never seen back home in Nepal. My interests started to grow more and more from there and guess now I have turned into a crazy plant lady who has a house filled with plants.
Do you remember the first plant that you bought and what is your favorite plant now?
Orchids! It was love at first sight when I saw that pretty plant. All hail mother nature for creating this beauty. It was a purchase that had to be made right there and then. My current favorite now has to be the ZZ plant. It is an easy-to-care plant that can never do any wrong and has lasted me a very long time. She's a known survivor that can go without needing lots of care. I would recommend it to first timers who are starting with plants.
What is the plant that you have bought multiple times and can't get enough of?
It might seem unbelievable, but I have over 100 plants and yes, I can admit that I am a crazy plant mom and I'm not at all ashamed. I would pick Orchids as the answer to this question as well. As corny as it sounds it was the first plant that I ever purchased, and I felt an immediate connection with my orchids. The vibrant colors of this plant and their long stems looked so elegant that I kept on going back to get more varieties of them. I now have over 6 of them in my home and I can't resist the urge to add more to my collection whenever I see another one!
Where do most of your plants live?
Most of the plants in my collection are indoors. I gravitate towards indoor plants as I love the feel of the greenery and bright colors in my indoor space. I have a mix of both flowering and green plants and together they bring a positive vibe to my home. Waking up to plants by my side has to be one of the best things and I'm grateful for it. I feel energized and super happy whenever I see my plants.
Have you made any friendships through your love for plants?
My love for plants has surely helped me gain some true connections that I am grateful for. I have met so many interesting and lovely people that have similar interests and plant crazy like me! There have been many instances with fellow plant lovers like me and that I can feel the immediate connection as we share the same love for plants.
Where do you get most of your plants from?
This goes without a doubt, my go-to place has to be I am the Gardener. They have the most beautiful collection of plants. From local to imported, they have got it all. It's safe to say that I get 90% of my plants from there. Their quality of plants is impeccable. And I am never disappointed by their service. I always message them about new imports and whenever they arrive, I'm the first one there.
Do you talk/sing/read to your plants?
Yes, indeed. I love having conversations with my plants. I feel like they are a part of me and hold them close to my heart. I talk to them on a daily basis while I'm taking care of or watering them. I enjoy my time alone with plants and just enjoy having casual conversations sharing my daily activities. I have shared my deepest emotions and secrets and can undoubtedly say that there is a definite unspoken bond and connection we share!
How do you maintain them all?
I am a frantic researcher. Whenever I see that my plant is not doing well, I'm quick to act and see whatever I can do to fix it. Research and gaining knowledge online or from people I know who are plant experts are the key to keeping my plants healthy and alive. I follow the advice of experts and make sure that my plants have enough nutrition, fertilizer, water, and air. I'm also very careful about where I keep my plants and if they are getting enough sunlight or not. I always do a weekly check-up on my plants to see if they are alive and thriving.
What plants are you dying to add to your collection?
I have been wanting to add another ZZ plant to my collection. Seeing that it is an easy-care plant and looks beautiful I completely understand the hype for it. I can't get enough of it so the more the merrier! Also, the trendy Ficus Bambino is the one I'm dying to add to my collection. I saw the Ficus Lyrata in the newest import of I am the Gardener and I can't wait to add it to my plant collection!
What does gardening/ planting mean/signify to you?
From collecting plants for over two decades, I can safely say that plants have become a part of my life. Besides enhancing the beauty of my surrounding space with their presence they have provided me with freshness, cheerfulness, and a positive distraction from my otherwise busy life. They are one of my daily sources of a happy and healthy life.
Having this conversation with our customer and fellow plant lover has given me a new perspective. I thoroughly enjoyed this conversation with Sushmita Ji. Seeing her love for plants and how her face lit up when talking about them, I could see that her love for plants is immense. Her ability to share her thoughts and emotions with me made me happy. I love knowing that she can fulfill and grow her plant collection with the help of I am the Gardener. It makes me self-assured that I work for a company that fulfills people's plant desires and transforms their wishes into reality.
About the writer:
Sachi Gurung works as a Digital Marketing Executive at Iam The Gardener. She's a feisty Sagittarius who loves to eat and have quality conversations with her pals. She's also an avid book lover with the curious mind to explore new things.